Brawn Mixer offers custom controls for every level of complexity in mixer operations. From On/Off stations for manual mixer control and basic equipment status lighting, to advanced control stations with speed adjustment, diagnostics, and programmable I/O functions, Brawn Mixer controls can help meet any process goals.
Specifying a control station with the mixer allows for higher level of customization and process control at a lower cost than separate packages. Brawn Mixer controls are built on-site, in a UL-certified panel build shop, with the input and supervision of the mixer engineering team. This vertical integration of manufacturing and assembly processes means better support for customer applications, shorter lead times, and tighter integration between equipment and controls.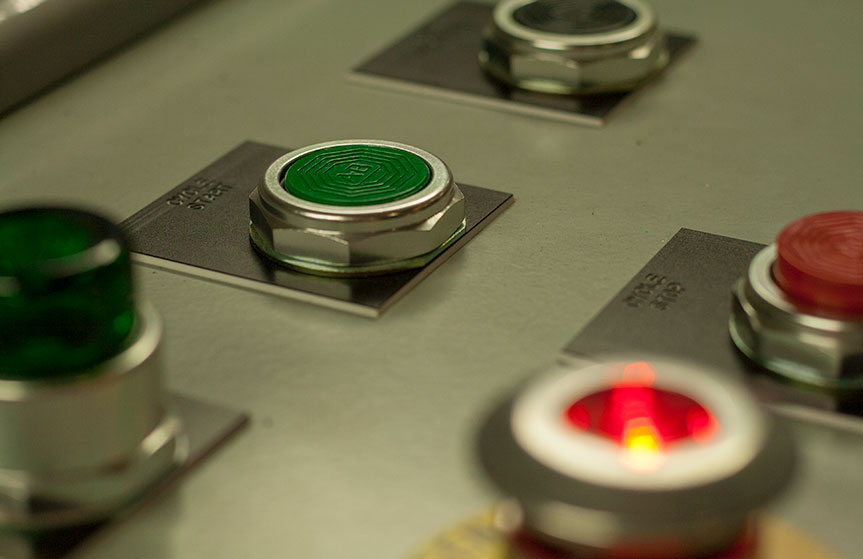 Tech Specs
General Specifications: Basic Control Stations
Basic control stations offer a significant upgrade over standard on-off switches, giving operators lighted controls, safety features, and mixer protection mechanisms.
Available for 120Vac single phase or 460Vac 3-phase incoming power
Incoming and motor power cords
NEMA 12, 4, or 4X enclosures, lockable via door disconnect switch
Single or three pole fuse block
Application sized motor overload and motor contactor
Lighted Start and Stop buttons
Fault indicator light
Optional 24Vdc control system for both single and three phase systems
Optional MCR safety relay
General Specifications: Advanced Control Stations
Advanced control stations deliver a higher level of process control to mixing operations. Deeper performance and fault diagnostics, customizable interfaces, and programmable speed and timer controls are standard features for advanced control stations. Optional integration with existing facility SCADA systems is also available.
Available for 120Vac single phase or 460Vac 3-phase incoming power
Incoming and motor power cords
NEMA 12, 4, or 4X enclosures, lockable via door disconnect switch
Single or three pole fuse block
Application sized motor overload and motor contactor
Lighted Start and Stop buttons
Fault indicator light
Start / Stop buttons
Touchscreen interface for adjustments and diagnostic readouts
Total and ramp up speed adjustments
Mixer on and off timers
Motor amperage and RPM readout
24Vdc controls power, with included power supply
Optional MCR safety relay